In 2017, Daily Coffee News has shared stories of more than 100 coffee shop openings in the United States alone.
Many of stories have followed the gritty determination of independent owners scratching and crawling through piles of municipal code, unforeseen flaws in building structures and systems, and any number of difficult matters related to people.
From being coated in drywall dust to standing behind a freshly powder-coated espresso machine, what these people bring forth are unique expressions — reflections of company, brand and, oftentimes, self. The idealized hope is that these expressions resonate with customers in order to provide financial means to survive in an increasingly competitive specialty retail landscape. If all goes exceptionally well, the really batty ones choose to do it all over again, sometimes five, six, seven times (perhaps until JAB comes knocking).
After poring over, so to speak, all of this year's openings, we've broken our "biggest of" list into three regions: East Coast, West Coast, and No Coast. We should also offer a few caveats:
Arbitrarily assigning regions within this vast country is an imperfect science that's bound to offend the geopiety of many readers. For this, we apologize. In addition, we've also covered numerous openings of envelope-pushing shops outside the U.S. that are not mentioned here, and will continue to do so.

We're calling these the "biggest openings" of 2017, but we're certain to have missed some along the way for any number of reasons — let's borrow the recently popular coffee term "force majeure." If you're aware of an opening that particularly excited you this year, let us know! Better still, let us know what's in store for 2018.
Caveats complete, here some of the most exciting shop openings of 2017, "No Coast/Third Coast" edition. We hope to see you there!
(Note: for other big openings, check out our "West Coast" and "East Coast" listings.)
Photo courtesy of Madcap Coffee.
Grand Rapids, Mich.-based roasting company Madcap Coffee has opened its second retail location, incorporating a visually striking open-concept round bar inside the Grand Rapids Downtown Market…[read more]
Momentum Coffee in Spring, Texas. Photo by Ethan Elms.
Both in physics and in business, force and momentum are very different things. When a seasoned specialty coffee professional with decades of experience roasting, sourcing and training moves into an underserved market and starts a new company, there's certainly a lot of momentum there, but it isn't forced
Corvus Coffee DTC. Photo courtesy of Corvus Coffee Roasters.
Denver's Corvus Coffee Roasters has opened its second retail location, one that is remarkably and intentionally different from the company's flagship roastery and coffee bar. Corvus opened the new shop late last year in a new building within the Denver Tech Center (DTC) neighborhood in Southeast Denver, conceptualizing the shop around three Oji cold brew towers…
Odd Duck Coffee Photo.
In a sea of average, anything exceptional would be, by definition, odd. Translated to the coffee scene of Wichita Falls, Texas, Odd Duck Coffee has arisen to embody that exception, offering fresh-roasted specialty coffee to people and businesses in whole beans or, as of this week, also in a variety of a brew methods across the counter at its just-opened public tasting room…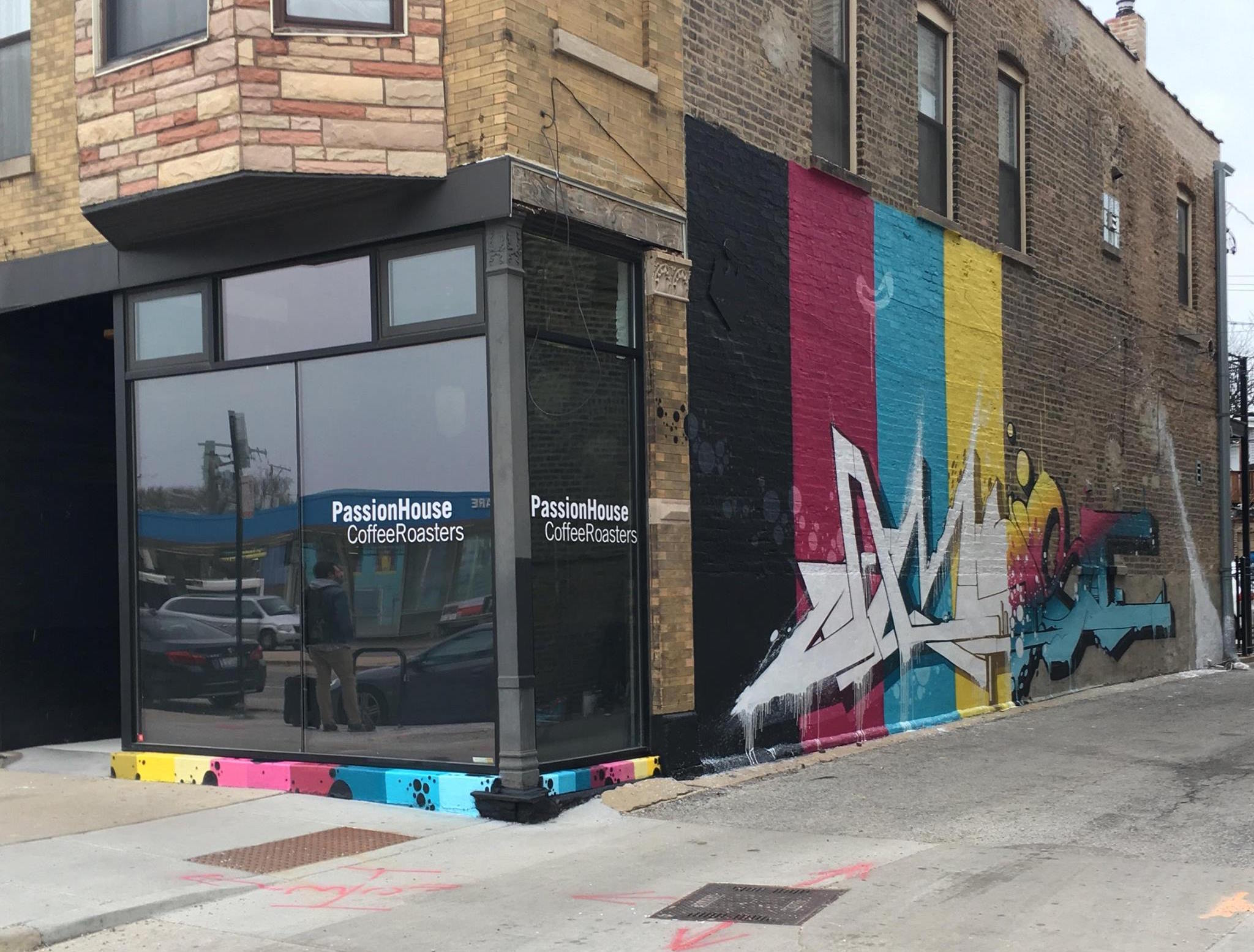 Passion House Coffee Roasters' first retail location, in Logan Square. Photo courtesy of Passion House Coffee Roasters.
As the tide falls for one coffee company on the ever expanding and shifting Chicago scene, it comes in from another. In a shop in the Logan Square neighborhood left dark after Bow Truss recently pulled out due to financial difficulties, another Windy City roaster has swiftly raised its first retail flag…
Photo courtesy of Heine Bros.
Last year about this time, we shared news that 23-year-old Kentucky-based roaster/retailer Heine Brothers' Coffee was moving its production headquarters across town and into a 40,000-square-foot historic building in west Louisville. There the company, which specializes in organic coffees and is a roaster member of importing cooperative Coop Coffees, added a shiny new Loring S35 to its 5-year-old Loring A15…
Photo courtesy of Rowster Coffee.
Connecting Michigan's Upper and Lower Peninsulas, the nearly five-mile Mackinac Bridge is the longest suspension bridge between anchorages in the Western hemisphere. It's also a monumental — and, for anyone who's ever driven it, somewhat terrifying — landmark in the Great Lakes state…
Photo courtesy of Harbinger Coffee.
The Rocky Mountain foothill city of Fort Collins, Colo., is by no means isolated from culinary trends, given that it's a vibrant, tech-friendly college city and a hotbed of the craft beer revolution…
Strange Matter Coffee in downtown Lansing. Photo by Priscilla Perez.
The Lansing, Mich., multiroaster Strange Matter Coffee Co. today officially becomes a multi-location company, opening the doors to a second coffee shop while planning a major relocation of its first…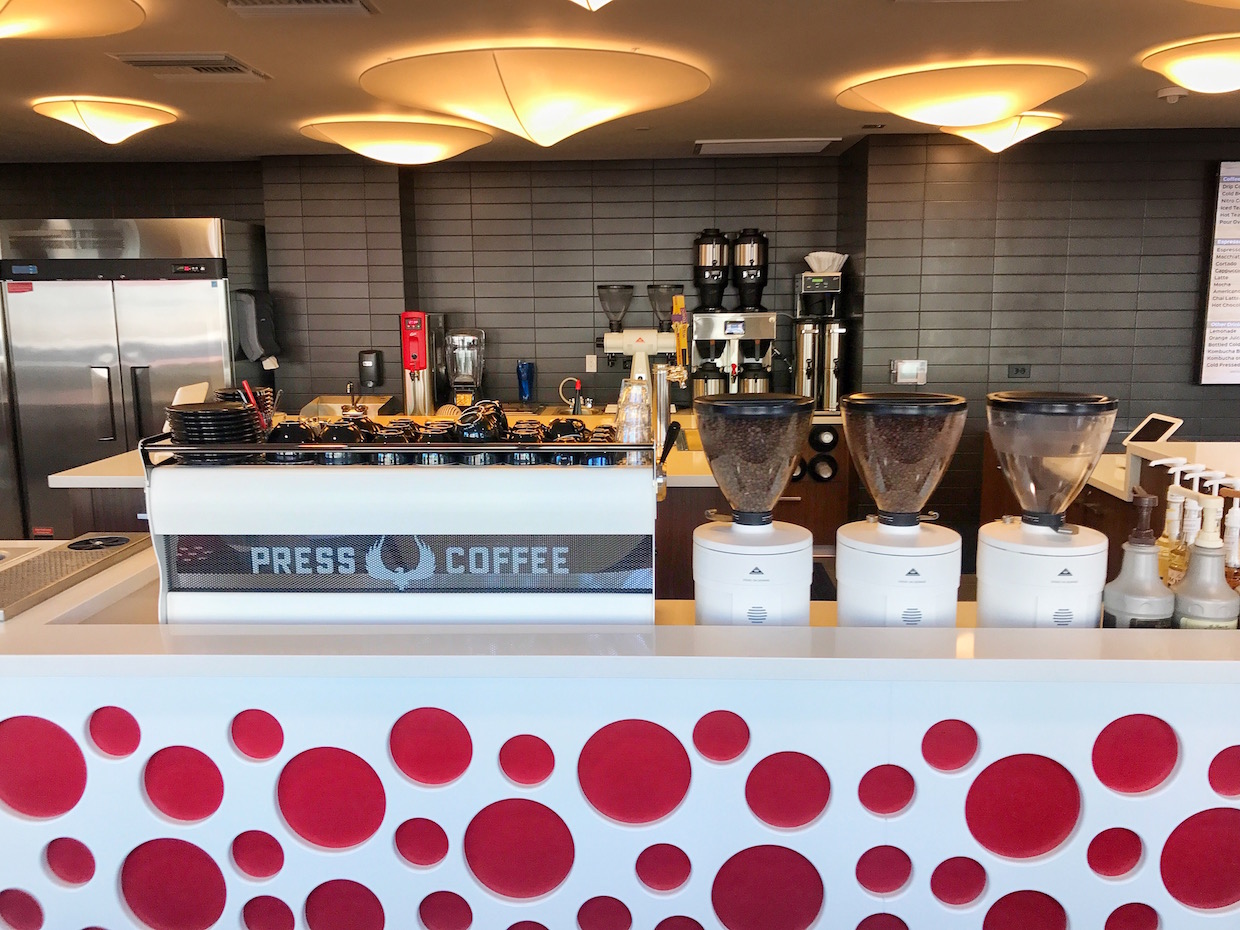 Press Coffee Roasters downtown Phoenix flagship inside The Muse building. Photo courtesy of Press Coffee Roasters.
After nine years of serving its freshly roasted coffee to the people of the Valley of the Sun while building out bars in Scottsdale, Tempe and Chandler, Press Coffee Roasters has opened a downtown Phoenix, Ariz., flagship shop…
Photo courtesy of New Order Coffee.
On-demand retail roastery and café company New Order Coffee has officially emerged from its profile-setting and recipe-tinkering lab and opened the doors to its flagship coffeehouse, with plans underway to convert the original lab space into a second café…
Photo courtesy of Horizon Line.
From the shining sea to quieter amber waves of grain, Brad Penna and Nam Ho moved from Southern California to Iowa last year on a quest to open a coffee bar and roastery in Des Moines, after being attracted to the city's mellower pace and lower costs of living
Pinewood Roasters photo by Mike Chaung.
When Pinewood Coffee Roasters moved out of its previous retail space a few months ago, the company effectively hurled itself into a period of retail limbo that was consumed by the buildout of a new public home. Earlier this month, the central Texas roasting company sunk deeper roots with the opening of a new flagship cafe in Waco
Vail Mountain Coffee and Tea's Scott Robinson. Photo by Toni Axelrod.
It was almost exactly 20 years ago that the owners of Colorado's Vail Mountain Coffee and Tea shuttered their six Daily Grind Coffee Company retail cafes in order to focus full-throttle on growing the wholesale coffee roasting business…
Photo courtesy of Stauf's Coffee Roasters.
Stauf's Coffee Roasters, which next year will celebrate its 30th year in business in Columbus, Ohio, recently opened its fourth retail location, with yet another one on the way "in the near future," according to a company representative…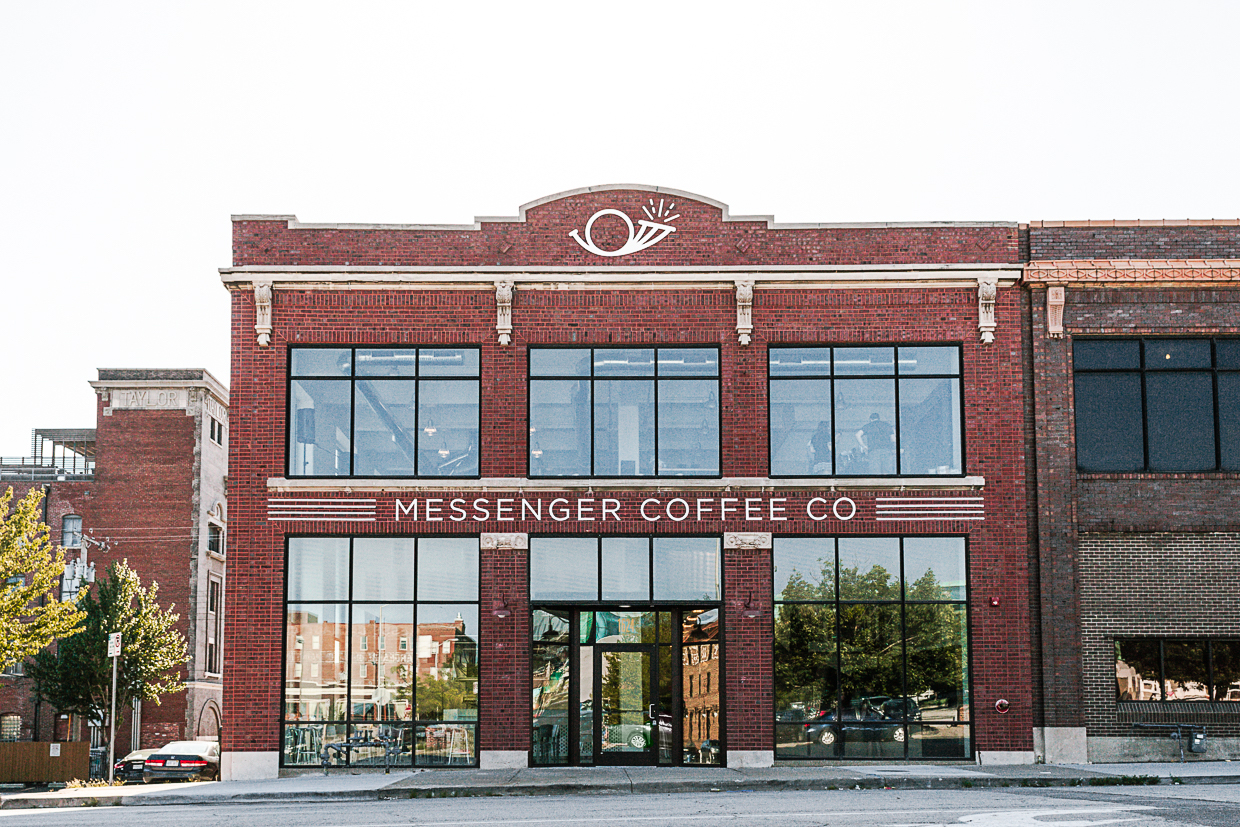 The forthcoming Messenger Coffee and Ibis Bakery location in Kansas City, Mo. Photo by Ryan Carr. Courtesy of Messenger Coffee.
In an historic 1919 building at Grand Blvd and E 17th St that originally housed the Bruening Brothers Automobile Company, the expansive Ibis bakery and Messenger café will occupy the first floor, including Ibis' on-site flour mill. The Messenger roastery and "slow bar" are on the second floor. Up the grand open staircase from there, the third floor offers patrons some quiet and comfortable seating in a lounge with a stereo, as well as an outdoor rooftop deck with its own fireplace. There's also a basement for green coffee storage, and each level has a footprint of about 5,500 square feet…
Rosella at the Rand. Photo by Jessica Giesey, courtesy of Rosella Coffee.
San Antonio's Rosella Coffee, which has sustained success since opening its first location in 2014, has gone even bigger with its second location, opening inside the historic Rand building downtown. Inside the high-ceilinged 2,859-square-foot space, Rosella at the Rand further expands the company's scope, offering a full-service restaurant and cocktail bar, in addition to the coffee company's core coffee offerings…
Sky Coffee in Santa Fe, New Mexico. Photo courtesy of Sky Coffee.
There is a slowly growing number of quality coffee options in Santa Fe, New Mexico, and Bay Area coffee veteran Todd Spitzer has had a hand in a surprising number of the newest and most progressive among them

Photo courtesy of Phoenix Coffee Company.
After a remarkable 27 years in the coffee business, Phoenix Coffee Company of Cleveland, Ohio, has risen again, this year redefining its coffee offerings with an updated roastery, unveiling a refreshed brand, and opening a new cafe that reflects these quality-focused changes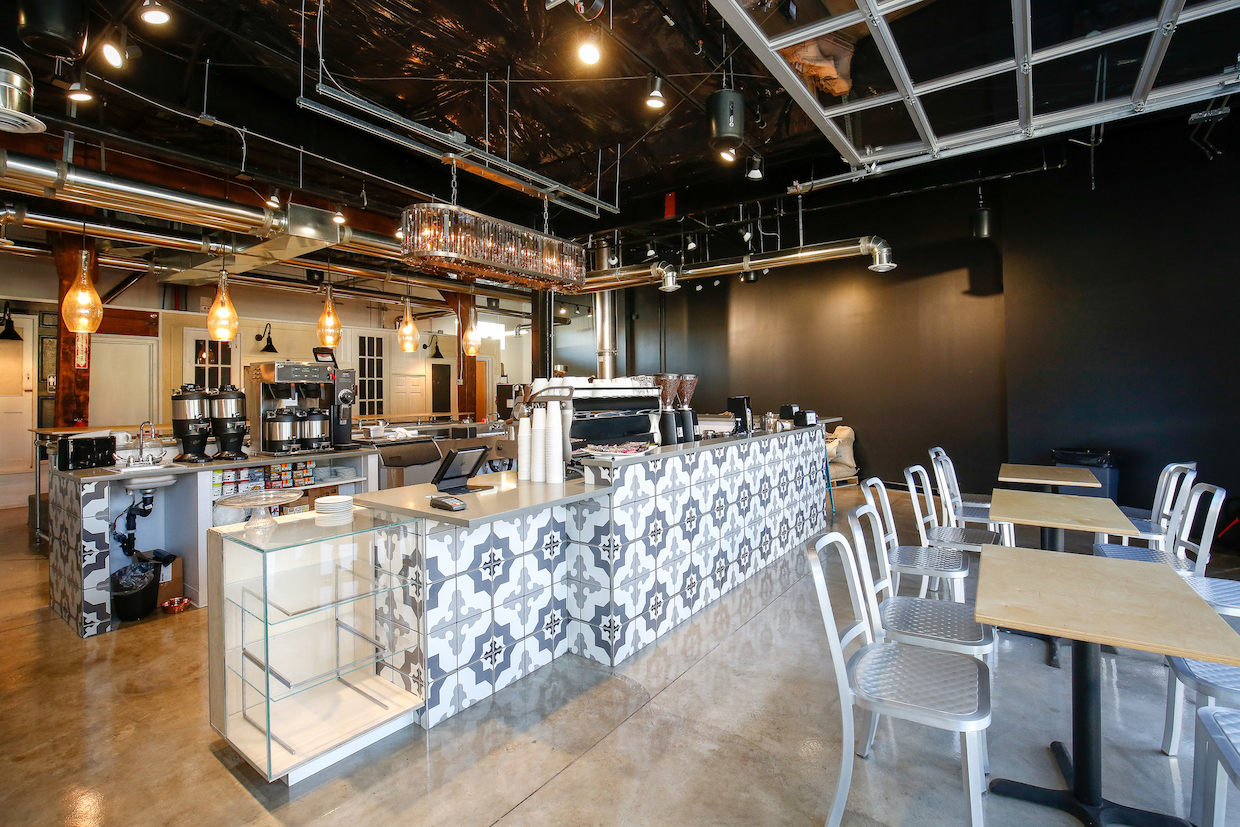 The new Copper Door Coffee Roasters roastery café at The Yard at Santa Fe in Denver. Photo courtesy of Copper Door Coffee Roasters.
Denver's Cooper Door Coffee Roasters has opened a second café, including a custom-colored new Diedrich IR-12 roaster affectionately named Cecilia that stands in full view of guests

Stumptown at the Ace Hotel in Chicago. Photo by Carly Diaz, courtesy of Stumptown Coffee Roasters.
It's been a big end-of-year for Portland, Oregon-based Stumptown Coffee Roasters, which earlier this month reopened its redesigned downtown Portland location, and three days later made a splashy retail debut in Chicago
Photo courtesy of Caffè Umbria.
On W. Armitage Ave. between Western and California in Logan Square, the facility will serve as the Umbria production headquarters for wholesale clients from Chicagoland to the East Coast. The roastery, which occupies a little less than a quarter of the 9,000-square-foot space, includes a bright red, 30-kilo STA Impianti roaster from Italy